These two-toned, nested, heart, sugar cookies are incredibly soft and chewy and perfect for Valentine's day. They package well which makes them excellent for gift giving or for kid's Valentine exchanging.
This recipe begins with my Perfectly Cuttable Sugar Cookies' recipe but with a few small tweaks to turn them into the two-toned tasty treats. Before you get started make sure that you have two sizes of cookie cutters.
For my cookies, I am using my Wilton Nested Heart cutters. The interior is the next to the smallest size (approximately 2") and the exterior is the two sizes larger. 

I am able to get about 30 cookies with these sizes. However, the size and shape of the cutters will greatly effect the number of cookies that you will get. 
About the Ingredients:
Butter:
This recipe calls for unsalted butter. If you happen to only have salted butter on hand, just remember to leave out the additional salt. 
Whenever possible, I use Land O Lakes Premium (extra creamy) unsalted butter. I have also used the regular unsalted version and like it as well. However, that little bit of extra fat content in the premium butter may be desirable for those seriously picky bakers out there.
Food Coloring:
I use gel food coloring in for these cookies because it is more vibrant and requires much less to achieve the color intensity that I like. With liquid food coloring, I am forced to have either a blander color or to alter the consistency a slight bit by using more of the liquid substance.
Confectioners Sugar:
When needed, I prefer to use powdered sugar in place of flour to roll out the dough. This is a personal preference, but I find that flour can cause the cookies to have a slightly tougher texture.
However, powdered sugar will leave a slightly glazed effect on the cookie which you can see just a bit of in the images. This may or may not be desirable. You'll need to weigh the two against each other.
Techniques
When rolling the dough, I prefer to sandwich the dough between two sheets of parchment or wax paper. This greatly reduces the need for flour or powdered sugar.
The thickness that I like for sugar cookies is 1/4". This may be a bit thicker than you are used to, but with my recipe this thickness is just right for maintaining long-lasting softness.
I chill my dough after rolling it out between the parchment/wax paper. I roll each color out, then stack them on a cookie sheet and stick them in the refrigerator. 
However, I do not recommend speed chilling in the freezer. This recipe is best when it is given time to rest. Two to three hours in the fridge is plenty. Overnight is even better.
Cut the cookies after they have chilled. If the dough becomes too pliable, stick it back in the fridge for an additional 30 minutes. I find it is best to work with one color at a time and allow the other color to rest in the fridge in between.
The cookies need to go into the oven cold. You want the fat (butter) in the dough to solid before baking, otherwise, they may spread.
Storage and freezing:
You can freeze the dough up to three months before using. For quick cooking, cut the dough into cookie shapes, then layer with wax or parchment paper between cookies. Remove as needed and bake straight from the freezer. Likewise, the cookies can be frozen after baking for up to three months.
To maintain freshness, store baked cookies in an airtight container for up to a week. They will keep their softness for this length of time. Keep out what you think will be eaten and freeze the remainder.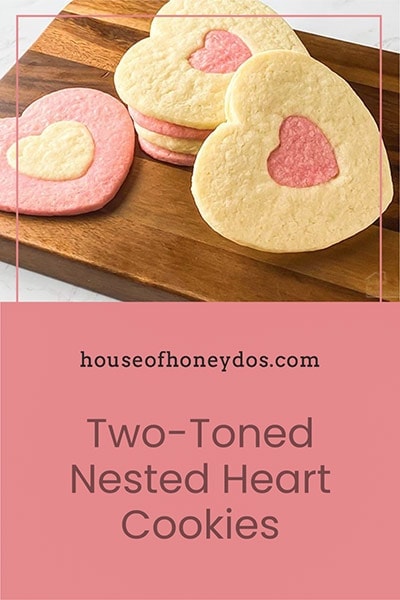 Yield: 30
Nested Suagr Cookies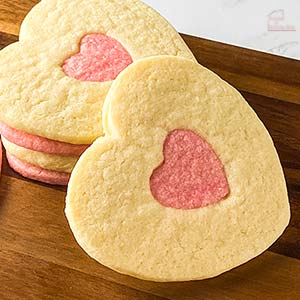 Two-toned sugar cookies that stay soft and chewy. Perfect for holidays and parties.
Total Time
2 hours
25 minutes
Ingredients
2 1/2 c all-purpose flour
1 1/2 c granulated sugar
3/4 c unsalted butter room temp
2 eggs
1 tsp vanilla
1 tsp baking powder
1/8 tsp table salt
gel food colorant
confectioners sugar (as needed)
Instructions
Whisk together flour, baking soda, and salt. Set aside.

Cream together softened butter and sugar until light and fluffy. Add in vanilla and eggs. Blend until smooth.

Gradually add dry ingredients to wet ingredients while blending on low speed. Continue blending just until all flour is incorporated. Do not over-mix.
Seprate dough in to two equal amounts. Add a small amount of food color to each portion. Blend on low until well incorprated. Add more as needed until dough has reached the desired color intensity.

Place dough on parchment paper or wax paper. Cover with a second sheet of paper. Using a rolling pin, roll dough into 1/4" thickness. Sprinkle dough with confectioners sugar (as needed) in lieu of paper. Place rolled dough in the refrigerator for between 2 hrs - 24 hrs.

Remove chilled dough from the refrigerator. Cut dough first with large cookie cutter. Then, cut out center with a smaller cutter. Swap the centers between the two dough colors. Transfer cookies to parchment covered cookie sheet. Chill again if dough has become too pliable.

Bake at 375 Farenheight in a preheated oven for 8 - 10 min. Remove cookies when the dough is no longer shiny and before edges begin to brown. Leave on sheets for 3-4 minutes to allow cookies to finish cooking.

Notes
For crispy cookies, roll dough a bit thinner and allow to bake just until the edges begin to brown.
Store cookies in airtight container to retain freshness.
Cookies may be frozen for up to 3 months after cooling or freeze cookie dough prior to cooking.