Making those gift packages look pretty can sometimes put a strain on a pocketbook. It costs a pretty penny to buy beautiful wrapping paper and then add on beautiful ribbons and tags. So, whenever I can I try to DIY my own wrapping and tags. That is why I am offering this festive printable of Christmas gift tags – for free!
Every year, I like to sit down and design gift tags that coordinate with my paper and/or wrapping design plans. Yes, I plan out a theme for my trees, complete with matching paper, ribbons, and other accessories.
I love making everything look pretty, and I also prefer to make as much of the items as I can. This year's theme is rustic farmhouse and has a heavy reliance on black and red.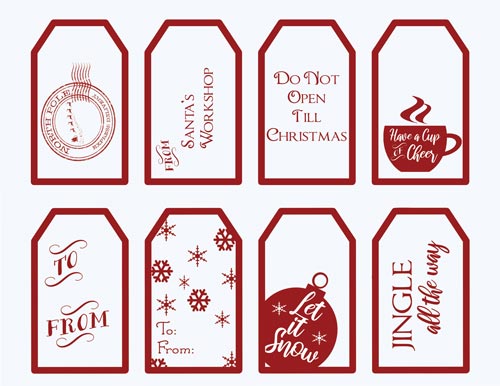 These tags work well with either sticker papers or card stock paper. I prefer the card stock but the peel and stick paper looks very nice as well.
To get the best results with printables, use the brightest stock paper that you have. If your printer has the ability to print vibrant printables, you can also try out craft card stock for a more rustic version.
Since these are a simple shape, you can get away with using your scissors to cut these out. But if you have a paper cutter, that will give you the most accurate cuts.
For the hole, I just use my paper hole punch. Then, thread a string or a narrow ribbon through the hole. Accessorize as desired.
More recommended Christmas post for you to read!

Make this adorable Christmas angle. All you need is an empty plastic bottle and a few craft items!
Don't miss out on our version of kid-friendly eggnog! (pst… you can liquor if you want)

Please feel free to print as many copies as you need, but remember that these are copyright materials intended for just your own personal use. Just click the link below to get your free Christmas Gift Tags!
If you are interested in more amazing printables, be sure to sign up for my newsletter. This will gain you access to my printable gallery which I offer to all of the lovely people who like my material enough to sign-up!