This eggnog recipe has been a Christmas tradition in our family for several years. What I love about this recipe is that it is a very kid-friendly eggnog version, but is also delicious with or without the addition of alcohol.
It comes out as thick or as thin as you like. It has a smooth creamy flavor that is similar to ice cream. We use it for the kids, but add a little liquor to it and it is ready to go for the adults!
Because the eggs are cooked in this recipe, it will keep in the refrigerator for 4-5 days. With the addition of liquor, it should last for up to a week.
Ingredients:
6 eggs yolks
2 cups milk
2 cups half n half
3/4 cup sugar
2 tsp vanilla
1-2 cloves
1/2 tsp nutmeg
1/4 tsp cinnamon
whipped topping
(for the adult version) 3/4 cup of Captain Morgans or 1 cup Bailey's Irish Cream
Instructions:
Step 1 – Separate the egg yolks from the whites. For this recipe, I have found that most kids prefer the eggnog without the whites included, but if you want to have traditional eggnog, cover the whites and place them in the fridge for later.
Step 2 – Whip the egg yolks and sugar together until well blended and the mix appears fluffy and a light yellow color.
Step 3 – Combine milk, half n half, cloves, vanilla, and cinnamon in a saucepan. Heat on a low setting, stirring frequently, bringing slowly to a light boil. 
Step 4 – Remove cloves and stir in nutmeg.
Step 5 – Turn off heat on milk mixture. Gradually add the milk to the egg mixture, 1 cup at a time, while constantly whisking. Continue until all milk mixture has been incorporated into egg mixture.
Step 6 – Return eggnog to the saucepan and heat on the lowest setting. Stir constantly for 4-5 minutes or until the mixture has thickened. DO NOT ALLOW TO BOIL.
Step 7 – Set eggnog aside and allow to cool for about 1 hr. (Optional) For an adult version, add in either 3/4 cup of Captain Morgans for traditional eggnog or add in 1 cup of Bailey's Irish Cream to maintain more of the current flavor.
Step 8 – Place eggnog in fridge and allow to rest for 24 hrs.
Step 9 – (optional) If desired, beat the egg whites until a stiff peak is reached. Gently fold into eggnog mix until well incorporated.
Step 10 – Dispense into glasses and top with whipped topping. Garnish with nutmeg and a cinnamon stick to dress things up. (FYI – Star Anise is added for photo staging only).
Troubleshooting Eggnog:
Thickness:
The final thickness of the eggnog will depend on several things – how much you allow it to thicken on the stove, how much liquor is added after the fact, and whether you choose to add in the egg whites.

If making without any additions, try to get the thickness as close as you want the final outcome before removing it from the stove. 

If you plan to add in liquor, keep in mind that this will thin out the mix. Adding in the egg whites will help to re-thicken the final drink.
Curdled Eggs:
If your eggs curdle after adding them to the milk mixture, this means that the milk was added in too fast or the milk was too hot. It is important to go slow with the tempering. 

If this occurs, you can attempt to save your eggnog by placing it in a blender and blending at high speed. This will break up the curdled portions and often allow you to continue.
More holiday posts that you may like:
Make these adorable Christmas angels from recycled water bottles!
Wickedly delicious black apples for Halloween!

Yield: 6
Easy Virgin Eggnog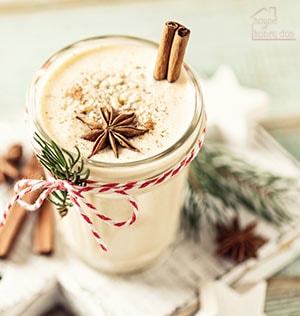 Traditional holiday dessert drink.
Total Time
1 day
20 minutes
Ingredients
6 eggs yolks
2 cups milk
2 cups half n half
3/4 cup sugar
2 tsp vanilla
1-2 cloves
1/2 tsp nutmeg
1/4 tsp cinnamon
whipped topping
Instructions
Blend together egg yolks and sugar until fluffy and soft yellow.
Combine milk, half-n-half, and spices in a sauce pan. Heat on lowest setting until a soft boil is reached.
Remove cloves, then very slowly dispense liquids into eggs while constantly whisking.
Return eggnog to sauce pan and heat on lowest settings until mixture thickens. Do not allow mixture to boil.
(Optional) Add 3/4 cup of Captain Morgan or 1 Cup of Bailey's irish Cream.
Chill for 24 hrs. Then, garnish and serve.